Lesson 16: Praying with one word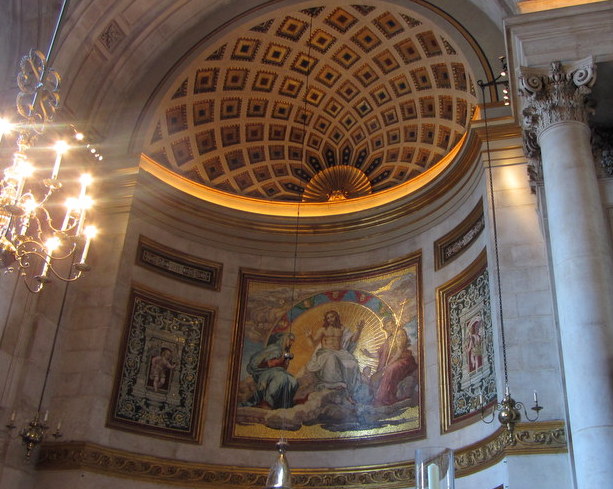 This lesson is the first in this section about centering prayer. I can imagine this part of the course being the least familiar to you. You may not have heard the phrase 'centering prayer' before. I hope these lessons will inspire you and provide newfound insights!
16.1 Three Contemplative Practices
I gave an overview (lesson 10) of the three contemplative practices that are examined in this book (the spiritual exercises that focus on attentively being present in God's attentive presence). These three practices have fewer and fewer words, there is a decrease of words:
in the lectio divina there is the (always different) short bible excerpt the focus: the prayer text;
in the Jesus prayer ("Lord Jesus Christ, Son of God, have mercy on me") that single sentence of ten words (or a shortened version or another sentence altogether) forms the core: the prayer sentence;
in the centering prayer there is only one word left that guides you to come to, and remain in, the silence of God's loving presence: your sacred word (prayer word).
I myself have learned this way of silent praying through the teaching of Contemplative Outreach, an American contemplative movement dedicated in particular to promoting 'centering prayer' and 'lectio divina'. I simply must mention the name Thomas Keating: a Benedictine monk who devoted much of his life to teach contemplative Bible reading and contemplative prayer. Therefore, centering prayer also has its roots in monastic life, much like lectio divina. You can say that centering prayer is the help you need to undergo the fourth phase of lectio divina (the contemplatio): being in the silence of God's presence.
16.2 Centering prayer: four guidelines
The term "centering prayer" is ultimately rooted in the fact that you put the presence of the Lord at the heart of this prayer. Thomas Merton, another well-known monk who wrote extensively about contemplative prayer once said it is a prayer practice 'centered entirely on the presence of God'. So that's the core of this prayer practice: to wholeheartedly concentrate in silence on the presence of God.
I will now set out four guidelines to help you structure this prayer practice:
1. Choose a prayer word that symbolizes your active desire to be in God's presence and to be open to His renewing efficacy within you.
2. Sit down, relax and unwind, connect with your desire to be in God's presence. Then introduce the sacred word.
3. If you find yourself disturbed by stray thoughts or other distractions just keep coming back gently to your sacred word
4. Conclude this time of prayer by praying the Lord's Prayer or with a few more moments of silence.
I will explain these guidelines further in the course of the coming lessons.
16.3 The sacred word
What exactly does 'sacred word' mean? It is a word that is meaningful to you personally. A word with biblical roots. A word you use to distill and encapsulate your desire to be in God's presence. In centering prayer the intention is not to ponder upon this word. This is unlike what we learned about lectio divina. There we have a prayer text of several (biblical) sentences you contemplate on, at least in the first three steps but then this thinking does descend into the heart, and includes your feelings too.
With the centering prayer, just like the prayer sentence we learned about before (for example the Jesus prayer), the intention is not to think over the words themselves. The words are there to give something to hold on to in the silence in which you seek God's presence.
The centering prayer, compared to praying with a prayer sentence, has even fewer words. In fact, there is only one word left for you to keep going back to when you notice something distracting you in the silence. Examples of prayer words, preferably short ones, are:
Love
Peace
Lord
Jesus
Abba
God
Spirit
Here
Light
Yes
Quiet
Glory
What matters is that the word you choose is meaningful to you and carries with it your active desire to be in God's presence. Personally, the prayer word I like using is the word 'here'. It's very short. It helps me to be in the here and now of God's presence. To me it has the meaning of 'He is here'. But also: 'Here I am'.
Reflecting
1. What are you thinking and feeling right now after being introduced to centering prayer?
2. Did a word come up in your mind or heart right away that could be your sacred word? What is it?
Practicing
I can imagine praying with one word is something you feel like you have to explore a bit more, maybe at this stage it is too challenging to put into practise right away. Feel free to do your exercises (which are important for your learning process) in a way that suits you.
That means you can choose to either do an exercise with lectio divina, the Jesus prayer, or the centering prayer. For lectio divina you can choose from the selection of texts added, or any other one you want yourself. Using the timer will be familiar by now.
If you wish you can listen to Anima Christi first. This song is an ages-old traditional prayer from the Roman Missal. The author is unknown. It has often been attributed to St. Ignatius of Loyola (1491-1556), but though favourite to him, he could not have been the author for it appears already in a document from 1334, a good century and a half before St. Ignatius was born.
Inspiring quote
A quotation by Benoît Standaert:
Prayer is simple. But simplicity is difficult. The more I manage to simplify my life, the closer I will get to space for prayer.