Lesson 4: Praying with Scripture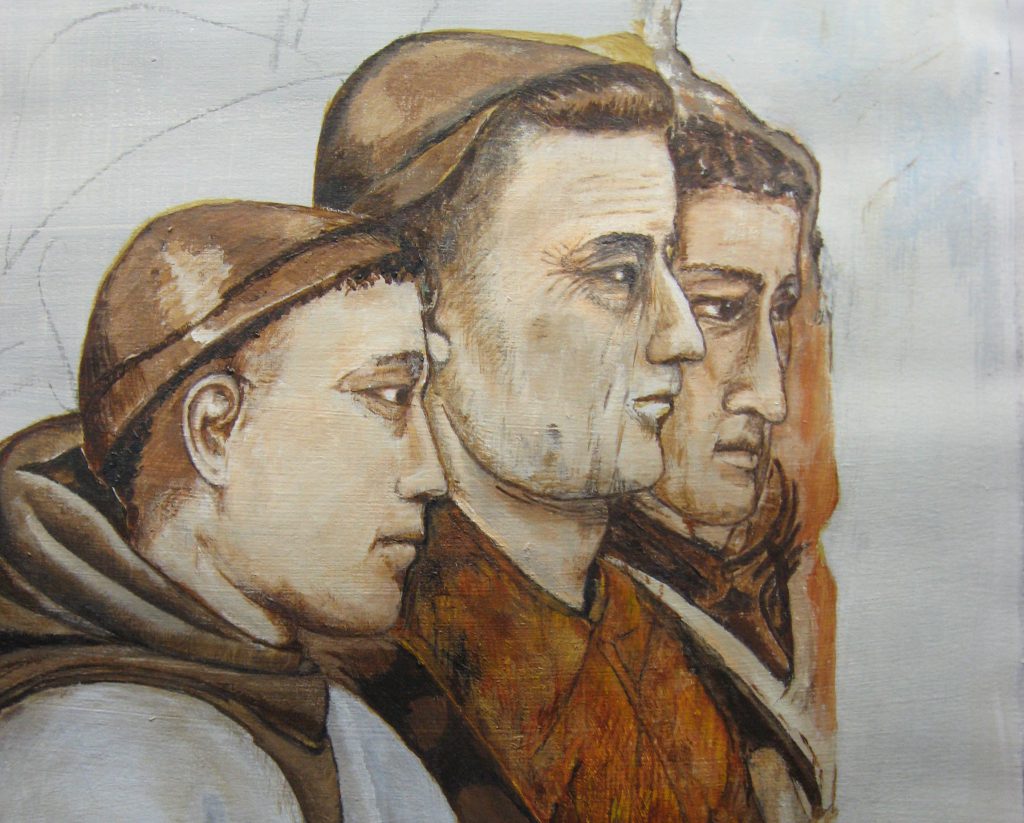 I hope this course inspires and benefits you in seeking the presence of God! In the first lesson I announced the three ways of praying that we will discuss to aid in seeking and experiencing God's presence:
Praying with Scripture (also: lectio divina),
the Jesus prayer and
Centering prayer.
In this lesson we start with the first method: lectio divina.
4.1 What is lectio divina?
Lectio divina is reading Scripture in a praying manner, and has been practiced by monks in monasteries for centuries. These monks entered the monastery to seek God. They did this by praying collectively (for instance seven times a day) and each day they spent time (on top of their duties) to listen to God's word. So lectio divina comes from the monastic tradition.
The word 'lectio' means: reading. The word 'divina' means: divine, godlike. So literally lectio divina means: divine reading. I tend not to translate it, because in this expression it's almost tangible that this isn't something from today or yesterday, but this is a religious practice with a very long tradition. Those who practice lectio divina partake in the long tradition of prayerful Scripture reading.
The definition Wikipedia gives is: 'a traditional monastic practice of scriptural reading, meditation and prayer intended to promote communion with God and to increase the knowledge of God's word.' Right away it becomes clear how prayer is intrinsic to this practise. Monks say they pray the Bible. Therefore this way of reading the Scripture belongs in a book about prayer. I hope the lessons in this book will teach you to pray the Bible.
It is of great importance to entrust yourself to the guidance of the holy Spirit. The Spirit that has inspired the Word of God, is the Spirit that is also with you when you pray the Bible!
4.2 Slowly, lovingly, listening
Later on I'll introduce the four steps that characterize lectio divina. But first I would like to introduce three words that illustrate this way of handling the Bible.
Slowly. You read the text of the Bible calmly, slowly. Nowaday we are so used to quickly reading messages and texts (on websites and our smartphones, or for our studies) we seem to have forgotten how to read calmly (you might compare 'slow reading' with 'slow food'). The intention is that you take time to very deliberately let the words of the (mostly short) text for the lectio divina take effect on you.
Lovingly. The Bible is a love-letter. God tells you over and over that He loves you. Therefore it is important to read caring; open the Bible as a beloved child of a loving Father to hear his loving voice.
Listening. It is important to have a mindful attitude: that you are open and receptive to what the holy Spirit wants to say to you through the Scripture. Speak, Lord, for your servant hears. 
Addition: Scripture reading in lectio divina, in five words
4.3 Four steps
These four distinct steps (also called aspects or dimensions) are characteristic of lectio divina. I will now briefly go over them here. In the next four lessons, the steps will one at a time be given extra attention.
Read (lectio): you read the short Bible verse repeatedly and attentively, looking for words that hold special meaning for you at this moment;
Meditate (meditatio): you contemplate these words and associate them with your life, your experiences, and your feelings;
Pray (oratio): you speak to God and say what's on your mind;
Rest (contemplatio): you are attentively quiet in God's presence.
Reflecting
1. Up to now, what has been characteristic in your approach to reading or studying the Bible?
2. What appeals to you most in the above first explanation of lectio divina? What would you like to learn most: reading more lovingly, slowly or listening?
Practicing
Today I invite you to a first exercise of lectio divina, when you apply the four steps mentioned before (read, meditate, pray and rest) while reading – or listening to – verse 8 of Psalm 143 (if you want to, you also may read the whole psalm first):
Let me hear in the morning of your steadfast love,
for in you I trust.
Make me know the way I should go,
for to you I lift up my soul.
Listen to Psalm 143:8:
If you like you can listen to 'The Lord bless you and keep you' before you start this first lectio divina exercise. This song expresses in a beautiful way what lectio divina is about: that you emerge from it with a heart full of peace because the light of His countenance was shining upon you. Not because you got your head full of knowledge.
A good way to listen was like this: sit quietly before you start, get silent, and then start listening, attentively and present in the moment. You can listen twice (or more often) and pay for instance first particular attention to only the music of the song, while a second-time you focus especially on the words.
Now listen attentively to the song.
Inspiring quote
This time a quote from pope emeritus Benedict XVI. He said this in 2005, and it is a statement that has been with me for years as a source of inspiration when dealing with lectio divina. It also inspired me to pass on lectio divina to others so that more and more people get to know this way of reading the Bible.
I would like in particular to recall and recommend the ancient tradition of Lectio Divina: the diligent reading of Sacred Scripture accompanied by prayer brings about that intimate dialogue in which the person reading hears God who is speaking, and in praying, responds to him with trusting openness of heart. If it is effectively promoted, this practice will bring to the Church – I am convinced of it – a new spiritual springtime.
The Pope appeals to the faithful, Catholics in particular, to revive the practice of lectio divina. It is of course primarily a catholic discipline, especially in monasteries, but there too can it be a forgotten practice.
The descriptions the Pope uses for lectio divina are very beautiful. He calls it a 'diligent reading of Sacred Scripture accompanied by prayer'. So this is 'praying with Scripture', a way of reading 'that brings about that intimate dialogue'. This means that intimacy comes with it between God who speaks and the reader who listens. You hear the speaking God and you answer in prayer. So speaking and praying alternate in the lectio divina. And this with 'trusting openness of heart'. Your heart must be open to what God has to say through the Word.
The Pope expresses a kind of desire, a hope, when he says: 'if it is effectively promoted, this practise will – I am convinced of it', says Benedict – 'this practise will bring to the church a new spiritual springtime'. So a new spiritual springtime will not come by all kinds of new things we organize in church, or for the church, or with the church. But a new spiritual springtime comes as Christians and other people commit themselves to the word of God. If they listen to what God has to say to them in the lectio divina way.
I hope that, in the lessons that follow now, we become more and more familiar with lectio divina. I hope that you become familiar with it too, and that it will be an (in)formative experience, that leads to a new spiritual springtime, first and foremost in your own life.